The U-Spin Spacesaver Candy Machines
MAKE THE MOST OUT OF YOUR MONEY
DOMINATE THE COMPETITION.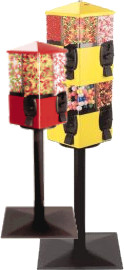 The U-Spin Spacesavers are by far the most impressive bulk candy & gumball vending machines in the industry for many reasons. The bottom line is simple. As a result of their ability to get into the best locations, the vendor can take advantage of high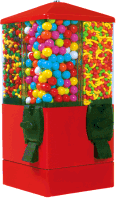 customer traffic which simply means MORE MONEY. No wonder they call it "The Money Machine".
4-Spin = 4 Selections (10 Inches Wide)
8-Spin = 8 Selections (10 Inches Wide)

Prepare to be impressed!
Would you send a soldier into battle with a squirt gun? Well, don't waste your time trying to find locations with anything less. Locations need another triple headed vending machine like they need a hole in their head. This baby has more selections than all the other machines combined in a location. Why take up 5 feet worth of valuable space when your customers can have an 8-Spin Titanic (8 Selection•10 Inches Wide).