Open OPPORTUNITY
The mere fact that your medical service vending business is a relatively new opportunity does not guarantee success, however, coupled with the fact that it has a boundless market, high demand, nation wide advertising and a proven track record, this very well may be the most exciting thing that has every happened to you financially.
Demand
Americans spend over 12 Billion Dollars per year on over the counter medicine, that is $34 Million per day. That is over 40% of what the entire vending industry produces. With the growing awareness of liability and expence employers have, you can see why this service is in such high demand.
Low Inventory
You can fill a machine for $30.00. Pills come in compact envelopes and take up very little space. An order could probably fit in you glove box.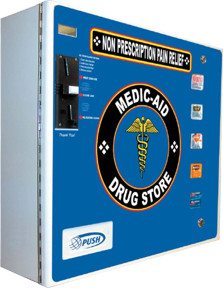 $595
Efficient
Possibly one of greatest values of the Remedy Center is how often you will need to service it. With a capacity of over 200 packets, you will be going to your machine much less frequently than with any other merchandiser. Your time is important, that is why vending is so attractive to you.


$379 4Selection * $499 8Selection
Stand $100
High Profits
Average cost for the product will range between 15 to 25 cents with the best sellers (pain relievers) being the cheapest.
Potential Income
With an average resale of $1.00, your markup can be 500%. How many businesses do you know that offer this? In addition, the market is "Wide Open". As mentioned earlier, with a ground floor opportunity, you have the advantage of locations not being saturated with this machine, so RESERVE YOUR LOCATIONS TODAY.